When it comes to console gaming at E3 we've highlighted what Sony, Nintendo and Microsoft showcased at their respective media briefings. Now let's take a look a what major publishers showed of during their own briefings.
Bethesda
Bethesda kicked off the publishers briefing Sunday evening with their first E3 showcase.
Not game-specific related, but Bethesda announced the creation of a their digital platform, Bethesda,net. It will expand how gamers create and share content regardless of gaming platform. Bethesda.net will include game news, forums, videos, articles, and new features as it relates to all Bethesda games.
We haven't seen a Doom installment in 11 years, and Sunday Bethesda showed off a gameplay trailer of the reboot describing it as "taking first person shooter to a whole new level."
Stranded on a massive UAC research facility on Mars, your goal is to wipe out demons that were brought from hell. And kill them you will. Not only does the trailer show some bad-ass gun slinging, but precise hand-to-hand combat including literally ripping a demons leg off and beating him with it.
The multiplayer for Doom looks to be arena-style with various maps including research facilities and even Hell itself.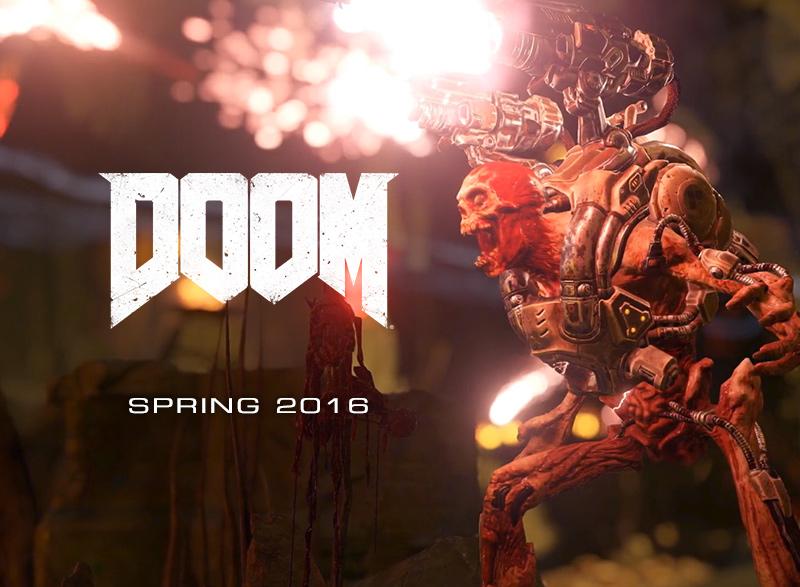 In addition to multiplayer, the Doom SnapMap was announced. A feature that gives every player, no matter the console, the ability to create their own Doom maps completely from scratch and be able to scare them via the Bethesda.net digital platform.
Doom will be out Spring 2016 on PS4, Xbox One & PC.

Next we see a sequel of it's namesake from Arkane Studios, Dishonored 2. The trailer show classic steam-punk style first person shooter much like the original, but enhanced. Leaping from building to building and switching back and forth between first and third person view, originally we're not quite sure who we're following. It then becomes clear you are Emily Kaldwin, the rightful heir to the Isles and kidnapped in the first Dishonored game. The empire of the Isles is in jeopardy once again, when an unwisely usurper seizes the throne. This time, you have a choice to play as either Corvo Attano, the royal protector, or Emily Kaldwin.
With obvious sub-human powers and badass weaponry, Dishonored 2 looks to be able to live up to it's name.
No release date was announced but it will be available on PS4, Xbox One and PC.
Along with a the sequel, Arkane Studios also announced a next-gen version of the original dubbed Dishonored: Definitive Edition, including all downloadable content. It will be available this August
Towards the end of their briefing, Global Vice President of PR and Marketing, Pete Hines playfully announced their showcase would be ending, however the audience reminds him of one slight game he forgot to discuss..
The gaming world already exploded when the Fallout 4 announcement and trailer was publicly released just days before E3. Bethesda took a large amount of time to talk about this latest addition to the Fallout series. The beginning of the game seems to take place before the bombs fell, during a time where there was major threat of nuclear war.
In the long gameplay footage, they show that the character you choose is customizable in practically every way shape and form. You chose every interaction and responses as well. You'll explore the massively detailed ruins of downtown Boston as you emerge 200 years later as the sole survivor of the nuclear attack. You'll also be fully wielded with 50 base weapon options, over 700 modification abilities for those weapons and the ability to mod your own armor.
The Pip-Boy is an integral part of the Fallout experience. Bethesda announced that an actual wearable Pip-Boy has been made and will be included in the collectors edition of Fallout 4.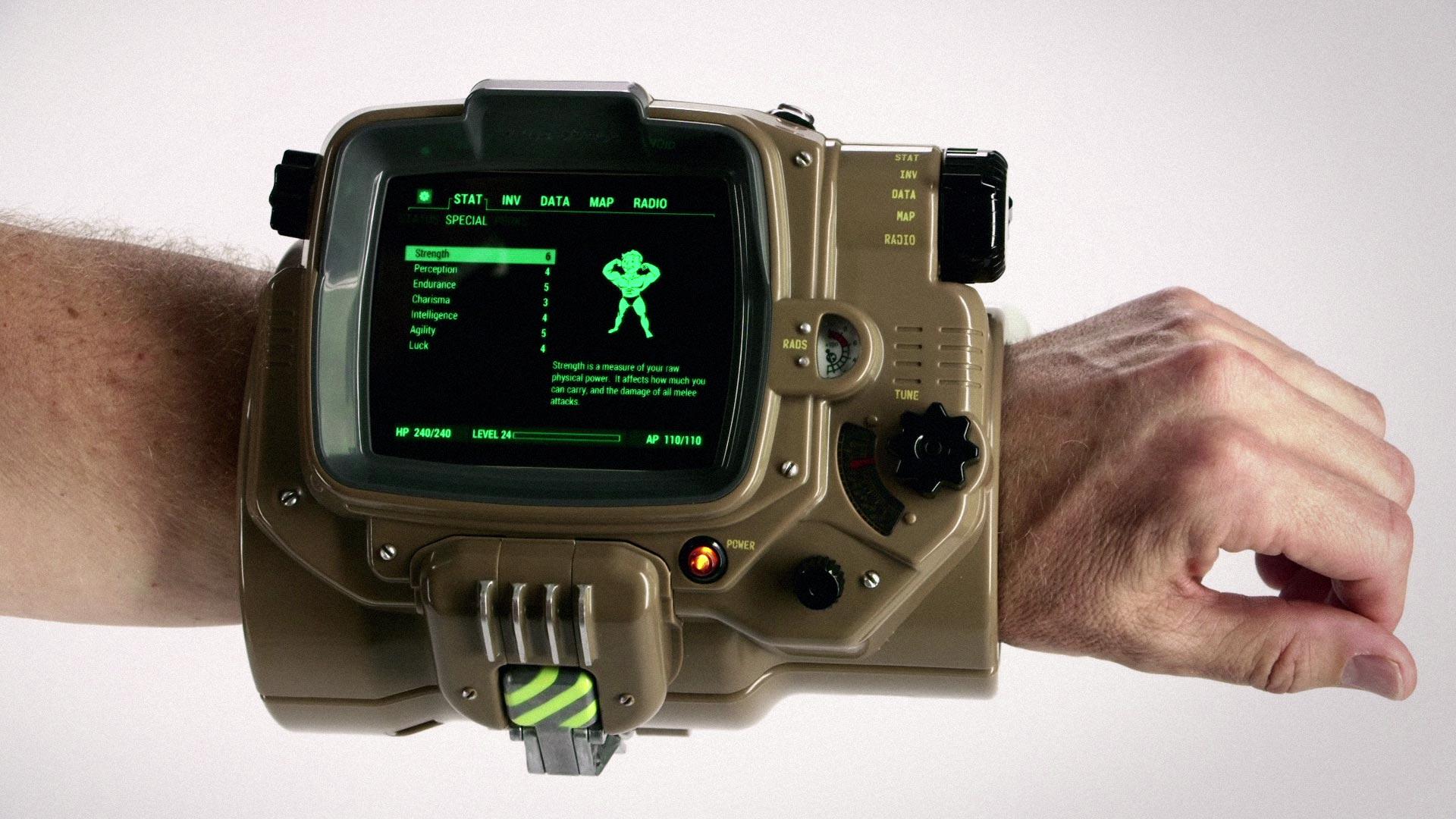 It will be fully operational as a second screen companion and you can even put your phone in it and run it from the app available. The real Pip-Boy will be fully functional by the same code used in that of the Pip-Boy in the game which will allow you to be able to use it no matter the platform.
Fallout 4 will be available on PS4, Xbox One and PC November 10, 2015.
EA
A new Mirrors Edge title was announced by EA dubbed Catalyst. An action adventure where we will see the origin story of the female protagonist, Faith. The in-engine trailer shows the first person experience lacks guns but makes up for it in efficiency, recognition of the environment and martial arts combat. You're surrounded by a city run by corporations where citizens have virtually no freedom or privacy. The last hope in saving the city from itself, is you.
Mirrors Edge: Catalyst will be released February 23, 2016 to PS4, Xbox One and PC
February 23, 2016.
It's been two months since Star Wars Battlefront was originally announced and not only game fans but Star Wars fans in general have been begging for more. Being described as a game that will immerse you in an authentic visually stunning universe, Star Wars Battlefront recreates locations and props from the original trilogy movies. The pre-alpha gameplay shows various characters being played in the series including Luke Skywalker. Players will have the ability to play in classic Star Wars battle scenes in either single or multiplayer modes that can reach as large as 40 players, or as intimate as 8.
Star Wars Battlefront comes to PS4, Xbox One and PC November 17, 2015.
Got the need? The Need for Speed? In it's 21st year, a new Need for Speed game is on the way. The initial basic trailer shown at first shows insane graphics and detail. The physical based rendering in the game will make you question what is real and what is actual game play. We can see this in the later gameplay trailer as it's consistently jumping back and forth between actual video footage with actors and the gameplay. The theme of the game is said to be inspired by other games in the series and hugely open world with extreme customization to your cars. A new kind of narrative will be introduced with 5 overlapping story lines as well.
Need for Speed comes out November 3, 2015 on PS4, Xbox One and PC.
A cute little playful puzzle indie game featured in Unravel follows the character Yarny made completely of yarn that unravels as you moves. The game is explained to as a huge metaphor for life and how you live. The yarn represents love and the bonds we make. It unravels because of the distance between you and the ones you love.
The trailer shows Yarny navigating through constant obstacles that he must overcome. Players have to be creative to find the proper path through these obstacles with help from the material Yarny is actually made out of. Roping himself across a gap, and even tying himself to a leaf made into a kite to fly away.
No release date, but it looks to already be available on pre-order for PC and will be in development for PS4 and Xbox One.
Plants vs. Zombies Garden Warfare 2 was mildly announced during Microsoft's conference but EA dug more into detail during their time on the stage. Much like it's previous namesake, it's a team shooter that "doesn't take itself too seriously". In GW2 the plants are actually the ones that are on the attack. You'll be joined by 6 new character classes from the past, the present and the future.
The live gameplay mode shows a 4 player zombie co-op mode in the classic arena-style game battling waves and waves of different plant enemies.
Single play is also available, playing every map versus an AI or a friend on a local split-screen.
Players that own and play the original Garden Warfare 2 will have the ability to transfer their characters to GW2 as well
Plants vs. Zombies Garden Warfare 2 comes to PS4, Xbox One and PC Spring 2016.
Brazillian soccer player Pele made a special appearance for a minor Q&A and to promote FIFA16.
The scenes from the latest FIFA title shows extensive additions to show true realistic soccer mechanics. Motion capturing technology was used to keep everything in the game as close to an actual soccer game as possible. For the first time in FIFA game history you will now have the ability to play women's teams.
FIFA16 is now available for pre-order and will be released to Xbox One, PS4 and PC September 22, 2015.
Ubisoft
After South Park creators finished up South Park: The Stick of Truth they said they would never create a video game ever again. Well they were wrong. The new addition to the South Park gaming franchise is titled South Park: The Fractured But Whole. Shown off by Matt Stone and Trey Parker it's said to continue the story from The Stick of Truth. The gameplay will be slightly different, this time playing as superheroes and focusing more on your characters back story.
No release date announced but it will be on PS4, Xbox One and PC.
With an unexpected and slightly awkward impromptu Jason Derulo concert right there on stage, we see a little bit more from Just Dance 2016. A major change is that console dancers of the game won't need a camera hooked up to their console such as the Xbox Kinect or PlayStation camera. Somehow there will be a way to actually use your smart phone in it as a motion controller.
The new Just Dance title will be out October on Wii, Xbox 360, PS3 consoles and also on WiiU, Xbox One and PS4. Next-gen consoles will also get the Just Dance Unlimited streaming service subscription option. It'll bring new songs and classic songs from previous Just Dance titles.
Announced at last years E3 we see more from Tom Clancy's Rainbow Six: Patriots successor, Rainbow Six Seige. The theatrical trailer shown is so life-like with real life actress Angela Bassett as Six, the leader of Rainbow Six, the anti-terrorism unit. Ubisoft also announced Terrohunt would be back in Seige. It will be playable solo or with up to 4 friends versus the AI. The live demo gameplay shows a team of 5 maneuvering as quiet and tactically as possible to disarm a terrorist bomb threat.
Tom Clancy's Rainbow Six Seige will be available on PS4, Xbox One and PC October 13 with beta beginning on September 24.
Of course there will be another Assassin's Creed title. We've known for a while now but most footage has been hush hush until E3. Assassin's Creed: Syndicate with be the ninth major game in the series set in the time of the Industrial Revolution following two twins, Jacob and Evie Frye as they fight against the Templars. As we see in the E3 trailer, the game will keep it's third person perspective with complete open world gameplay and precision combat only an Assassin's Creed game could bring you. This time you are not completely alone. You have a street gang of "The Rooks" with you. The game completely encapsulates the feel of the Industrial Revolution with gadgets and new guns to assist you on your journey throughout London.
In classic Assassin's Creed fashion, Syndicate will be available October 23 on Xbox One and PS4 and will be released on PC sometime during Quarter 4 or 5, 2015.
As the conference was wrapping up, Ubisoft announced they had been working on a new project, in secret. We see in the trailer shown that it will be a tenth installment to the Tom Clancy's Ghost Recon series, Wildlands. The game is set in Bolivia, which in the game, is the largest supplier of drugs like cocaine in the world. The U.S. Army dispatches a special operations unit called the Ghosts to destroy all drug cartels. This will be the first in the Ghost Recon series to feature an open world environment. No release date, just this super sneak peak, but the game will supposedly be released on Xbox One, PS4, and PC.
Square Enix
Square Enix begins their first game preview with a bang. Literally. The Just Cause 3 trailer shown is not necessarily a trailer, but an explosive, destructive intense experience.
The looks like the true definition of an open world game with 400 square miles from sky to sea. Rico Rodriguez returns to Medeci to liberate it from it's dictatorship rule. Square Enix makes a point to point out the grapple hook feature has been improved and a wing suit has been added to the many gadgets provided in the game.
Just Cause 3 will be out December 1 on Xbox One, PS4 and PC.
Kingdom Hearts series Executive Producer Shinji Hashimoto was a huge tease as fans were begging for more information on not only Kingdom Hearts 3, but the Final Fantasy VII remake which was first announced during Sony's press conference. Nothing else from the remake, other than the fact that they're doing it. They did however announce that the PC version of the original would be available on PlayStation 4 sometime this winter and that they are working on making a mobile version as well.
We're finally shown more footage of Kingdom Hearts 3 including a very long gameplay trailer. The battle mechanics look to be the same as previous Kingdom Hearts console games as well as playing as Sora joined again by Goofy and Donald again. We also see two characters playing chess that could be younger versions of Master Xehanort and Eraqus in an intense metaphor for balancing light and dark.
Not much discussion about the plot, but we know the events of KH3 will take place immediately after Dream Drop Distance. New worlds will also be introduced as Square Enix announced at least one new world, Tangled.

Deus Ex: Mankind Divided takes place in 2029, 2 years after the end of human revolution.
Adam Jensen is back as he joins
Interpol in a special task force that is aimed at stopping terrorist attacks from around the world. However you're a double agent, believing that the Illuminati has created the task force to eliminate their own threats and serve their own interests.
The story of this Deus Ex addition will change based on your actions throughout gameplay
, which means the ending will be based on your choices throughout the game. The in game trailer proves that this will be filled with more weapon enhancements and augmentations to assist players.
Out early 2016. on Xbox, PlayStation and PC, Deus Ex: Mankind Divided is already available for pre-order.
Missed the press briefings from Sony, Microsoft or Nintendo? We've got highlights from those covered as well here on heartgamingg.com.
E3 2015 was definitely one for the books. So many new innovations to the gaming industry, new game titles and series' coming to your console! This is definitely a wonderful time to be a gamer!